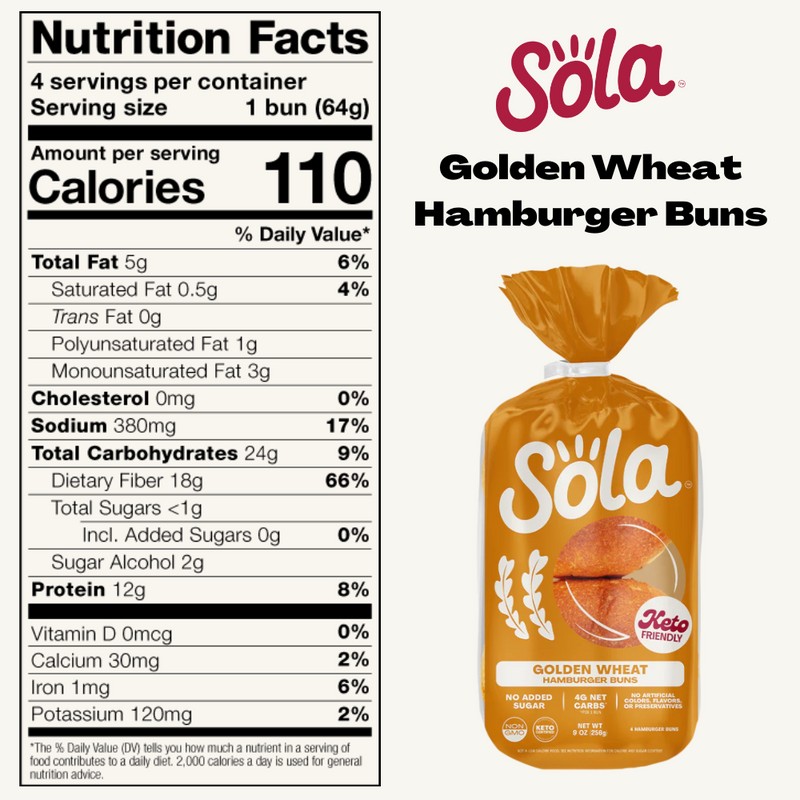 Golden Wheat Hamburger Buns (Pack of 8)
A better burger awaits! A tastier take on a traditional wheat flavor is your golden opportunity to indulge in these keto buns. These fluffy keto Hamburger Buns provide a good source of protein and fiber.
Non-GMO
No artificial colors, flavors or preservatives
Keto Certified
0g added sugar
4g of net carbs*
12g of protein
Chef crafted
Sola buns are made fresh every week. Buns can be stored frozen for up to 6 months. We recommend freezing shortly after receiving, and remove from the freezer as needed.
---
What makes Sola® products low carb?
Our Sola blend is composed of naturally occurring sweeteners such as erythritol, allulose, monk fruit and stevia leaf. Using this unique combination of low glycemic sweeteners, we have developed a variety of delicious chef-crafted food without all the carbohydrates.
Are Sola products keto friendly?
We certainly think so. However, it may depend on your personal keto diet plan you are following in your day to day life. Sola has a variety of exceptional products to help those transitioning from a high carb diet to keto. The goal is to reduce glucose spikes and insulin release to maintain your keto goal. Sola products have been tested to ensure low or no glucose and insulin release. This is why we believe Sola products are keto-friendly.
Does Sola contain Aspartame, Sucralose, or Saccharine?
No, Sola does not contain these artificial ingredients. We are proud to say we provide you with quality ingredients that can be found in nature.